Thought Leadership
Download BPI Network Study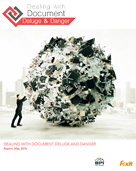 Dealing with Document Deluge and Danger
Documents are one of the fundamental building blocks of civilization. Over the millennia, they've enabled societies to share ideas and information across distances and time.
Documents, digital and otherwise, are more numerous and diverse than ever. It's estimated, for example, that more than 2.5 trillion PDFs are created annually. And if you ask business owners, executives and other knowledge workers, the number of documents we create will continue to grow and multiply into the future.
At the same time, controlling, managing, tracking and protecting documents has become a more difficult challenge in an age when they can be duplicated and distributed across global networks within seconds. Tracking them, making sure they're up to date, verifying their authenticity and ensuring they're not in the wrong hands—while also expediting their creation, modification, approval and distribution—is a vexing issue for almost all of us.
Dealing with Document Deluge and Danger is a new study by the Business Performance Innovation (BPI) Network, that explores the value, challenges, disconnects and new requirements surrounding docu- ment creation, processing and sharing in business and government organizations. It also looks at the kind of features and capabilities document-dependent professionals might want in a next-generation Portable Document Format (PDF) solution.
Sponsored by Foxit Software, Inc. a global software company and leading innovator of fast, affordable, secure and connected PDF solutions, the study demonstrates that, while documents remain essential to business life, they are also a source of significant frustration and lost productivity to the professionals who depend upon them.