Thought Leadership
Download BPI Network Study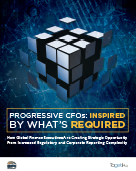 Progressive CFOs: Inspired by What's Required
How Global Finance Executives Are Creating Strategic Opportunity From Increased Regulatory and Corporate Reporting Complexity

Financial executives at large global organizations are living in interesting times. They are in the midst of transforming financial reporting and planning processes to address the growing demands of external and internal stakeholders for better, more varied and meaningful information and analysis. Corporate management and regulators alike are asking for deeper insights into company operations and financial and strategic risks and opportunities. Business markets and company operations are more complex and changing rapidly. Risks are more acute and far-reaching. The need to know is paramount.
The BPI Network has undertaken this study to examine the growing challenges and requirements of finance executives as they seek to meet demands for improved accuracy and timeliness in delivering much-needed and greatly expanded information to external and internal audiences. We also look at the new platforms and processes that financial organizations need to improve their capacity to deliver.
Sponsored by Tagetik, a leader in global performance management software solutions, our report, unlike many others, is not based surveys. Rather, we have gathered our insights from one-on-one conversations with financial executives at large complex global businesses. The result is deeper, peer-driven insights from the frontlines of financial change.