Thought Leadership
Download BPI Network Study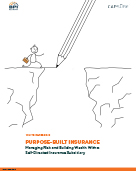 Purpose-Built Insurance
Managing Risk and Building Wealth With a Self-Directed Insurance Subsidiary
U.S. commercial insurance represents a significant piece of the U.S. economy and a major expense for businesses of all kinds. Especially for mid-sized companies, the challenge of managing risk can have a significant, even profound impact on the business. Commercial insurance, of course, is one of the most common forms of risk management for businesses. Yet, with commercial insurance costs skyrocketing, many companies cannot afford the optimal amount of insurance protection needed to shield their business and personal assets from unforeseen circumstances.
For many companies, there's another, more cost-effective and profitable
 way to use insurance as a risk management tool. They can form their own purpose-built, self-directed insurance subsidiary and thereby reduce their cost of insurance, expand coverage and generate a new source of capital and wealth.
The Business Performance Innovation (BPI) Network has undertaken this study to understand how mid-sized companies can benefit from alternative insurance models. This white paper serves as an introduction to the concept of purpose-built insurance subsidiaries, or captive insurance, and is designed for mid-sized businesses that may benefit from their creation. The study is sponsored by CapSure Risk LLC, a leading wealth creation and risk mitigation advisory firm that designs and structures purpose-built insurance subsidiaries to protect and grow business value for clients.