Thought Leadership
Download BPI Network Study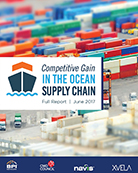 Competitive Gain in the Ocean Supply Chain
Innovation That's Driving Maritime Operational Transformation
The global maritime shipping industry is in the midst of a significant transformation to increase efficiency, visibility and customer service. Transformative technologies have the potential to significantly improve performance and transparency across a supply chain that has historically been riddled with inefficiencies and lack of collaboration.
This report dives into an industry-wide discussion about the economic, business and supply chain process and technology challenges facing the ocean shipping supply chain. The study delves into the need to upgrade legacy infrastructure, and explores which technologies can both improve efficiency and grow demand.
The research, sponsored by industry technology leaders Navis and XVELA, is based on a survey of 200 executives and professionals across the ocean supply chain, as well as deep-dive interviews with industry thought leaders. It advocates for new approaches and solutions to improve productivity, efficiency, speed and collaboration across the entire value chain of shippers, ocean carriers, terminal operators, Port Authorities, off-ocean carriers and consignees.