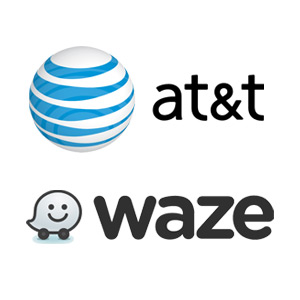 When it comes to Innovation, Startups and Big Companies Share Some Common Approaches
By Karyl Scott
Startups, by their very nature, are innovative. Larger, more established companies have to work harder to foster a culture that encourages innovation. Large companies that acquire innovative startups present an even more interesting take on how to capitalize on innovation and keep the entrepreneurial spirit alive.
The 100-year-old telecommunications giant AT&T, and Israeli startup Waze offers a perfect study in contrasts.
AT&T is a huge company that finds it hard to turn on a dime in response to emerging market opportunities and nimble upstart competitors. Despite having employed 8 Nobel laureates, "invention is not innovation," says Abhi Ingle, AT&T Vice President of Ecosystems and Innovation.
There's a wide gulf between traditional research and development and innovation that results in profit, Ingle says.
To address the innovation challenge, AT&T has taken two giant steps toward building an innovation culture. The first is an internal program called the Pipeline in which all employees can contribute ideas, undergo a peer review and potentially receive funding for product development. AT&T calls this the crowdsourcing of innovation. Since the program was launched in 2009, some 5,000 ideas per month have been submitted.
The second program is the Foundry with facilities in Palo Alto, California, Plano, Texas, Atlanta, Georgia and Ra'anana, Israel, in which technologists and other subject matter experts work in open, dedicated spaces to explore new ideas. Each foundry focuses on specific technologies, such as M2M (machine-to-machine) communications and the Internet of Things in Plano. Often times, the AT&T researchers invite startups and customers to come to the foundry to collaborate.
The foundries have been built outside of AT&T's product groups and include no marketing people. "We found the big bureaucracy of the company tends to crush innovation due to the demands of bringing products to market," says Ingle, speaking at the recent Innovation Forum 2014 held at the University of California at Berkeley.
The Foundry also exposes AT&T researchers to new ideas. A 30-person Israeli company called Intucell came to AT&T with the claim they could hand off mobile calls to cellular towers more efficiently than Alcatel-Lucent, which manufacturers AT&T's switches. AT&T experts were dubious but after testing the technology in a particularly congested neighborhood on San Francisco, AT&T realized it worked and decided to deploy the technology throughout the U.S., resulting in a 10% reduction in dropped calls.
And while AT&T didn't buy the company, Intucell was acquired by Cisco in 2013 for $475 million in cash.
Waze Ltd. was founded in 2006 in Israel by Uri Levine, Ehud Shabbat, and Amir Shinar. It all started because Shabtai wasn't very good at finding his way around. Like so many entrepreneurs, the innovation came out of a real-world need and a creative way to solve the problem.
When Shabtai got an iPad with GPS capabilities, he decided to build a mobile app that would be useful to him and his friends. Initially, Waze was put on a community blog and made available free of charge. It became popular very quickly as a crowd-sourced app. Waze differs from most GPS services in that a community of 100,000 users contributes real-time information about traffic, construction zones, accidents and road closures. Contributors can also clue users into speed traps.
Google acquired Waze in 2013 for $1 billion. While the Waze team is allowed to operate autonomously, says Chief Executive Noam Bardin, Google has integrated the Waze technology into Google Maps, Google Now personal assistant, Phone and Calendar apps.
Waze operates on three thematic goals through which all innovation projects are filtered, says Bardin. "Ideas are cheap, especially in the consumer space. The challenge is to understand your focus…. what you are trying to achieve," he says. "Innovation and distraction are closely tied. So we are maniacal in our focus," he says. Bardin declined to name the three goals, indicating they are akin to the company's secret sauce.
The entire staff meets once a month, and the management team shares all performance metrics with the employees. Every success and failure is reviewed and filtered through the lense of the 3 goals. "We can't have innovation that isn't integrated into the fabric of the company," says Bardin, who also spoke at the Innovation Forum.
Waze commercial customers include news broadcasters, governments, and advertisers.
While small and large companies may approach innovation in different ways, both Waze and AT&T has found the power of collective intelligence a powerful source of creativity and success. And both companies have found that sheltering innovators from the crush of large bureaucracies goes a long way to ensuring success.