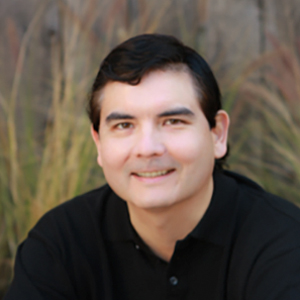 IoT Social Media: Insights Beyond the Buzz
By Carter Hostelley
With technology innovation and transformation at the top of the minds of executives across industries, the Internet of Things (IoT) is quickly rising to the forefront of conversations across social platforms. Innovators and marketers are looking to social to discover what IoT technologists, practitioners, and executives are saying when it comes to new and innovative technologies, best practices in tech integration, and what these IoT leaders are looking for in a new technology. But with all the buzz, how can these executives get beyond the noise and identify the insights that will drive real business value?
Typical social analytics platforms analyze conversations around key terms. But with thousands of users discussing IoT, this does little to uncover relevant insights beyond the noise. But in a new IoT Social Insights Report by Leadtail, a social strategy and research firm, executives can learn 'who's doing the talking' and then dive into insights on those specific decision makers and the conversations they are having. The following discussion highlights some of the most relevant takeaways from this milestone report.
Who is leading the conversation on IoT?
When it comes to the Internet of Things, there are three main groupings of IoT champions in the social media space, each with a different angle on the problem set:
Executives:​ These are founders, CEOs, CMOs, CIOs, CTOs, GMs and Chief Architects of companies (or divisions of enterprises) focused on IoT strategy, ​products and services.
Practitioners: ​Senior individual contributors and team leaders who fill the functional roles required to design, develop, market, sell, secure and deliver the Internet of Things.
​Thought Leaders: This group includes writers, publishers, consultants, speakers, analysts, and investors with a specific area of expertise or practice around the Internet of Things.
​The social data reveals that these three groups draw from a lot of the same resources, but they also revealed different perspectives or areas of focus in each group.​ For instance, IoT Executives have an affinity for "startup-y" content. As the people responsible for creating or discovering a business model for IoT, this makes sense – there are a lot of parallels between startup models and what it takes to launch a new business unit within a company, which, oftentimes, may struggle to see beyond today's core business to its role in an IoT world.
Meanwhile, IoT Practitioners tended toward content that highlights technology and products. They look at questions like: "How are new devices being created?" "What is dividing those that succeed from those that fall by the wayside?" And IoT ​Thought Leaders are looking to the future – they are focused on the big issues that need to be addressed to usher in the future promise of IoT such as policies, security, and identity.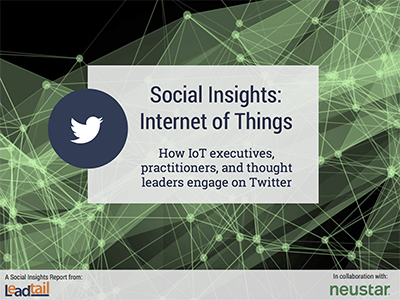 Who are the most prolific IoT leaders?
Amongst these groupings, we have found there are certain particularly prolific IoT leaders. And there are two telling characteristics that allow them to stand out above the crowd:
They share a lot. These are not people who tweet out an article every couple of days. They are consistently pumping out content that is interesting and insightful and appeals to the audience they want to address.
They are master curators that share something of their own process and worldview. They don't just blindly share articles and retweet others; they engage with personal comments and sometimes with extensive @reply threads.
​Across the board we see a few names that pop up again and again as having the ear of the C-Suite:
@ValaAfshar – Salesforce's Digital Evangelist, Vala Afshar
@pmarca – ​Venture Capitalist Marc Andreesson
Particularly for IoT we see:
​@gigastacey – Fortune Magazine's blogger and IoT Podcast host Stacey Higginbotham​
@chris_resendez – Founder and partner at INEX Advisors (advisors supporting IoT product development, piloting, and financing), Chris Resendez
Trends in IoT Leader Content
In looking at these prolific IoT leaders, we have noticed three major trends in their content.
​1. IoT leaders are Visual
Across all segments, the #1 most shared domain was YouTube – over half of our panel (54%) shared YouTube content during our 90 day sample period. Similarly, Instagram appeared in the top sources of content shared by all three of the groups we analyzed for the report, and overall 26% of our panel shared Instagram content during the sample period.
​2. Medium.com is quickly becoming the go-to source for IoT content
We're seeing Medium.com rise rapidly as a trusted source of content across all our decision maker groups, including those researched for this IoT report.​ Medium is effective, as it gives people with something important or insightful to say a platform to say it on, regardless of whether they've got a byline in a major publication, or a great PR firm to get the word out, or their own loyal audience of influencers. Combing the power of easy publishing and laying in the social graph for distribution, Medium is quickly becoming a force to be reckoned with.
​3. The Usual Suspects are here to stay
You can't discount venerable "old media" like the New York Times; it's still the paper of record even in an era and with a group where the idea of 'reading the paper' is quaint. Forbes has done a great job leveraging massive distribution + an extensive contributor network to establish a foothold in every C-Suite category. WIRED, TechCrunch, Mashable – these are all approachable tech publications even for the non-technical, and widely read in the C-Suite.

Carter Hostelley is the Founder and CEO of Leadtail, a social strategy and insights firm. He's a relentless advocate of the importance of social media to B2B CMOs and senior marketers; specifically, how social media can reach, engage, and influence buyers. He is also a contributing author at CMSWire, and has been quoted in numerous business publications including Forbes and The Wall Street Journal. The insights in this commentary come from Leadtail's "Social Insights: Internet of Things" report in partnership with Neustar. Download the full report here.
LinkedIn: www.linkedin.com/in/carterhostelley
Twitter: @carterhostelley
Website: www.Leadtail.com